There was once a girl who never thought that writing would really be a
big deal
for her. She started keeping a diary when she was in Grade 3, but for some reasons, she burned it when the pages were already full.
She didn't take writing seriously back then. All she did was comply with her teachers' requirements.
When she was in Grade 5, she transferred to a new school wherein clubs were active in their own areas. In her old school, clubs didn't exist so the club engagement was actually new to her.
Aside from being engaged in her club, she's also an excellent student. Well, in her old school, she was actually one of the top academic performers. In fact, she was the consistent
recipient
of the Best in Conversational English award from Grade 2 to 4 in their batch.
As a transfer student, she adjusted with her new school's environment easily, made friends, and performed academically well.
She used to have Math as her favorite subject, but eventually, she learned to love English (which was divided into
Reading
and
Language
proficiency). She was already a bookworm back when she was in Grade 3 that's why she didn't find it hard to cope with their
Silent Reading Activity
even though her classmates were already ahead of her level at the beginning of the school year. Actually, she was able to be ahead of them after a few weeks!
She also discovered that she has a say in public speaking and drama.
She never would've have realized that without her English teachers' help. In
Reading
,
Mrs. Villarama
would always commend her for being a fast reader who has good comprehension. With those good comments, she continued to read novels which became her greatest form of escape, and also enriched her vocabulary.
In
Language
,
Sir Ben
would ask them to write a diary of what had happened the whole period. Oh, it was her favorite part of the day! From the day Sir Ben had asked her to read what was written in her diary, he had already told her that she was going to recite what she wrote everyday. They also had an
Oral Communication Activity
wherein they would present something in front of the class. It's up to the assigned student if she'd act, sing, dance, whatever. The main point is, you had to talk in front of the class. On her first turn, she brought her collection of novels - Sweet Valley High, Don Quixote, The Little Prince, et cetera. She shared her favorite parts of the stories and told her classmates that
reading is a great way to spend one's free time
. For their second round,
Sir Ben
asked her to be the first
presenter. The class would be reciting
Footprints in the Sand
with matching actions.
FOOTPRINTS IN THE SAND
written by Carolyn Joyce Carty
One night a man had a dream. He dreamed
he was walking along the beach with the LORD.
Across the sky flashed scenes from his life.
For each scene he noticed two sets of
footprints in the sand: one belonging
to him, and the other to the LORD.
When the last scene of his life flashed before him,
he looked back at the footprints in the sand.
He noticed that many times along the path of
his life there was only one set of footprints.
He also noticed that it happened at the very
lowest and saddest times in his life.
This really bothered him and he
questioned the LORD about it:
"LORD, you said that once I decided to follow
you, you'd walk with me all the way.
But I have noticed that during the most
troublesome times in my life,
there is only one set of footprints.
I don't understand why when
I needed you most you would leave me."
The LORD replied:
"My son, my precious child,
I love you and I would never leave you.
During your times of trial and suffering,
when you see only one set of footprints,
it was then that I carried you."
She got perfect scores for both. Maybe Sir Ben had seen so much potentials in her, so she invited her to write for their school paper. She gladly accepted it then. During summer, she was also called by Sir Ben for a Journalism Workshop together with other selected students.
When she was already in Grade 6, she was appointed as the Editor-in-Chief for the Elementary Division of their school paper after being one of the top scorers in their aptitude test (they wrote an essay). She then became the representative of their school in the Cavite Schools Press Conference for Editorial Writing in English. After several days of training with Sir Ben, she was lucky enough to bag the first place for her contest. It was really a feather on her cap because that was the very first time that her school participated in such inter-school competition.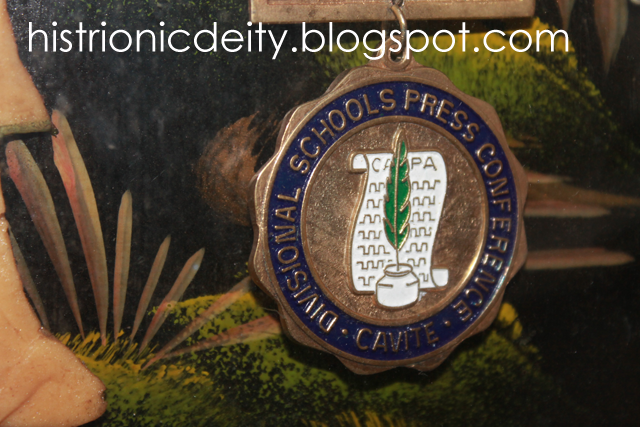 This was the very first medal that she has ever received for a writing contest. :)
When she was in high school, she transferred again, this time, to a campus with special science curriculum. Unfortunately, doors weren't opened for her to continue her career in journalism. However, she didn't stop writing. She kept a diary, blogged, wrote poems, essays and short stories. Her teachers would also commend her for doing a job well done in her essays, both in English and in Filipino. Well, with her poems, she has her collections of those.
1: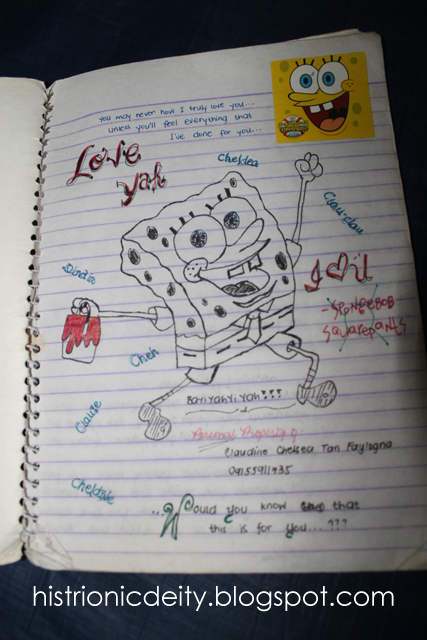 2:
You see, those were just ordinary notebooks. She wrote her poems there, getting better as time went by.
When she entered college, she continued writing poems. With enough inspirations, she was able to write as many as 82 poems (as of now, poems as school works excluded).
3: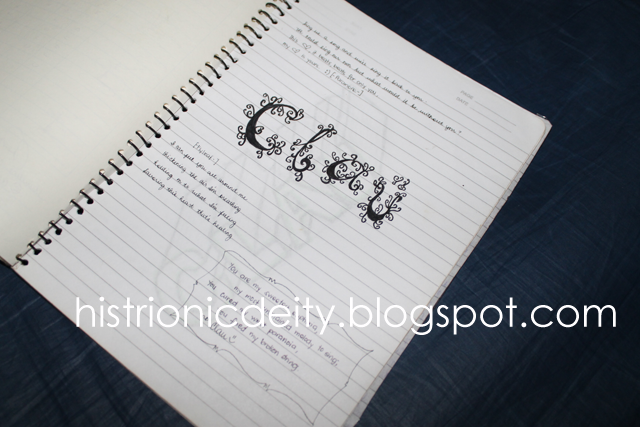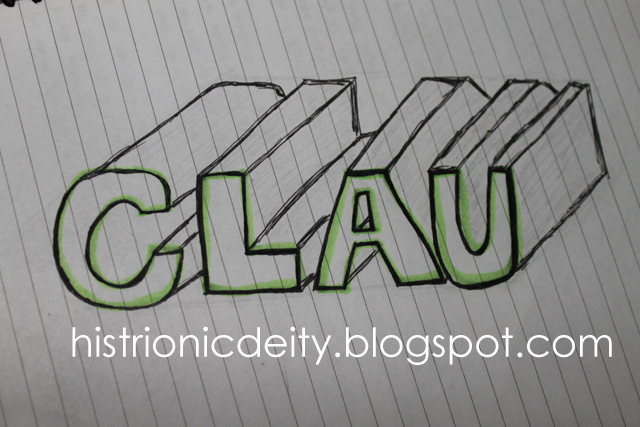 4 (Present):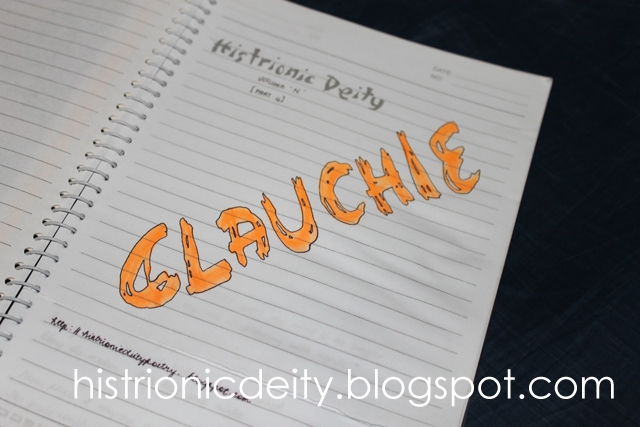 And fortunately, she was able to continue her journalism career. She joined their course's pool of writers for their course-wide magazine. She also joined writing contests and fortunately, got awards in most of those. She won inter-school competitions and also contributed works in the Cavite Weekly Chronicle.
When she was in third year college, she was given the Literary Editor position of the magazine's Editorial Board, and being the only non-graduating member of the EdBoard, she really considered it as an achievement.
And now that she's a graduating student, she currently holds the Editor-in-Chief position, thanking GOD from bestowing it upon her. Not only that, she's a Wattpad writer now, sharing her works of fiction with readers out there.
Well, all thanks to Sir Ben who actually gave her the hint that she has a future in writing. She owes him a lot. He was one of those who first believed that she could do great things through writing. And swear, she'll always remember Sir Ben no matter what. :)
I could testify that all of the above statements are true. I know Sir Ben, and I owe him a lot. I owe him a lot, because I am her.